Featured Coverage: 
6/22/17
Common Dreams, Embracing Need for 'WWII Style Mobilization,' California Set to Go Big on Climate
Following news that legislation aiming to power California solely with renewable energy by 2045 passed the state Senate, bestselling author Naomi Klein joined Los Angeles City Councilman Paul Koretz and community leaders on Wednesday in calling for a "World War II-scale mobilization" to combat climate change and lead the way in developing environmentally safe technology.
6/21/17
My News LA, LA calls for 'WWII-scale mobilization to keep environment safe under Trump
Los Angeles City Councilman Paul Koretz announced the start of a new environmental initiative Wednesday aimed at achieving a carbon neutral city by 2025.
Koretz said the Climate Justice Mobilization Working Group would be formed at City Hall to partner with the national Climate Mobilization group and try to reach the goals outlined in Canada's LEAP Manifesto.
4/23/17
Common Dreams, Ezra Silk, Director of Strategy and Policy at TCM: The "100 by '50 Act" Cannot Become Our "North Star"
On Tuesday, Senators Jeff Merkley and Bernie Sanders are scheduled to introduce the "100 by '50 Act," billed as "the most ambitious piece of climate legislation Congress has ever seen." 350.org's Jason Kowalski has expressed hopes that the symbolic bill, which aims to build a 100% renewable energy economy by 2050, will become the "North Star" of the climate movement. Yet the April 17th draft of the bill is incremental, non-comprehensive, and fails to meet the challenge of this historic moment. It's time to go back to the drawing board. We need a true climate emergency bill grounded in climate truth.
10/26/16  
The Young Turks, Wes Clark, Jr. Interviews the Climate Mobilization Founders 
Wes Clark Jr. of The Young Turks interviews the founders of The Climate Mobilization (TCM) Margaret Klein Salamon and Ezra Silk. The Climate Mobilization (TCM) is a grassroots environmental advocacy group working toward large-scale political action against global warming, with the belief that the crisis of climate change requires a national economic effort on the scale of the American mobilization of the home front during World War II. 

COVERAGE TIMELINE
5/12/16 
The New Republic, Should We Respond to Climate Change Like We Did to WWII?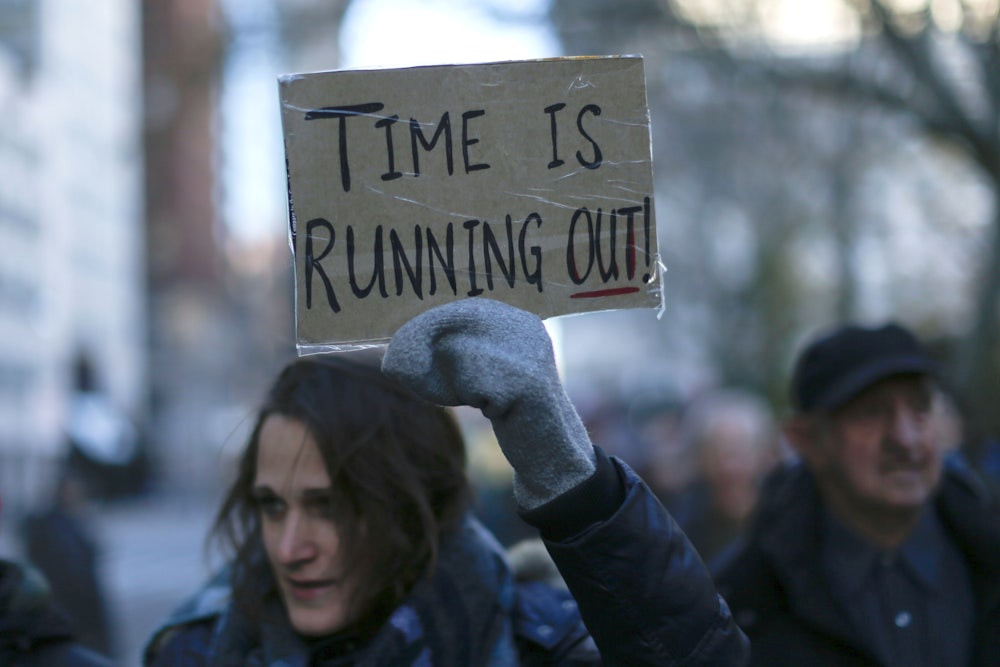 Though climate mobilization has existed as a concept for as many as 50 years, it's only now entering the mainstream. Green group The Climate Mobilization pushed the idea during a protest at the April 22 signing of the Paris Agreement. On April 27, Senators Barbara Boxer and Richard Durbin introduced a bill that would allow the Treasury to sell $200 million each year in climate change bonds modeled after WWII War Bonds. Bernie Sanders has mentioned mobilization on the campaign trail and in a debate. And Hillary Clinton's campaign announced last week that if she's elected, she plans to install a "Climate Map Room" in the White House inspired by the war map room used by Roosevelt during World War II. 
4/27/17
Common Dreams, 100 Percent Renewable Energy by 2050: Senators Introduce 'Most Ambitious' Climate Plan Ever
Sens. Bernie Sanders (I-Vt.), Jeff Merkley (D-Ore.), and Edward J. Markey (D-Mass.) on Thursday introduced legislation to build a 100 percent renewable energy economy by 2050—a bill that environmental group 350.org previously termed "the most ambitious piece of climate legislation Congress has ever seen," although others caution that it is not enough to meet the real challenges of climate change.
The "100 by 50" Act calls for 50 percent of U.S. electricity to be produced by renewable energy sources like wind or solar by 2030, and 100 percent by 2050. It would require zero carbon emission vehicle standards and prohibit federal approval of oil and gas pipelines, among other measures.
2/21/17
San Diego Union Tribune, Climate change activists build on anti-Trump fervor with San Diego rally
Hundreds of people gathered in downtown San Diego on Tuesday evening to call for a massive transition to clean power in the fight against climate change. The event was the most recent in a groundswell of local political demonstrations following the election of President Donald Trump... A La Jolla couple coordinated the rally around an online pledge to vote only for candidates who support an overhaul of the country's energy system on the scale of the "American World War II home-front mobilization."
"This needs to build so that there's an undeniable consensus that the government needs to take action," said Nancy Casady, 75, who put together the event with her husband. "We want people to tell their friends and come to the next rally until we have 30,000 predictably in San Diego demanding the government respond."
East County Magazine, Climate Mobilization Rally Energizes San Diegans
12/14/16
Counter Currents, The Ascendance of Trump Makes Broad-Based Climate Action Essential and Achievable 
The bottom line: we will have to redesign our economy and society to get by with a permanently lower input of energy and other resources. This will require a World War II-scale mobilization, something that obviously isn't going to happen in a Trump administration; however, if we mount emergency mobilizations in communities, counties, and states around the country, along with open political rebellion in defense of the Earth, we could start cutting emissions and blazing a trail for nation-wide climate mobilization at the same time we are striving for rapid regime change.

12//7/16
The Huffington Post, Time to Wake Up and Fight for the Climate

The bottom line: we will have to redesign our economy and society to get by with a permanently lower input of energy and other resources. This will require a World War II-scale mobilization, something that obviously isn't going to happen in a Trump administration; however, if we mount emergency mobilizations in communities, counties, and states around the country, along with open political rebellion in defense of the Earth, we could start cutting emissions and blazing a trail for nation-wide climate mobilization at the same time we are striving for rapid regime change.
12/5/16
The New Haven Independent Radio, Interview about the Climate Mobilization


11/21/16
Business Insider, Veterans are planning a 'deployment' to Standing Rock to protest the Dakota Access Pipeline
Clark Jr. may never have served in combat, but when he talks about Standing Rock, he sounds like a battle-hardened general. This isn't his first foray into boots-on-the-ground environmental activism. He's currently working with an organization called Climate Mobilization, which is focused on "building and supporting a social movement that causes the US federal government to commence WWII-scale climate mobilization."
 
10/5/16
Common Dreams, The Climate Emergency and the Election: A Pathway to WWII-scale Mobilization

This summer, we fought to include our call for a WWII-scale climate mobilization in the Democratic Party's 2016 platform (see pg. 45). Thanks to our efforts (and in particular those of Russell Greene), the platform declares a "global climate emergency," and in response, calls for a climate emergency summit within the first 100 days of the next administration as well as a WWII-scale climate mobilization.
9/26/16
The Young Turks, Why This Election is So Important
9/22/16
Counterpunch, Stan Cox: If There's a WWII-scale Mobilization, It Has to Go All the Way - and Then Some
The necessity for the consumer economy to get by on a lower input of energy and other resources while achieving sufficiency for all brings us back to the World War II model. If we're to emulate the "Greatest Generation," we can't do a halfway job of it, focusing solely on "green" production; we have to build a fairer economy as well.
So far, I have seen only one effective strategy for doing that: a "Victory Plan" recently drawn up by Ezra Silk, a co-founder of The Climate Mobilization movement. (It can be downloaded here.) The document, radical and at the same time realistic and practical, calls for reworking the government and economy even more thoroughly than during World War II, in order to cut America's net greenhouse emissions down to zero by 2025 while also reversing degradation of ecosystems and halting the mass extinction of species.
9/16/16
Post Carbon Institute, Paul Gilding: The Climate Mobilization Victory Plan, Foreword
The elites and policy makers are wringing their hands in despair. They broadly agree on the problems but have no serious solutions to propose, except more of the same failed trickle-down economics. In this context, a climate mobilization along the lines outlined in this paper provides a far smarter way forward and the basis for building a serious alliance between those concerned about economic and political stability, those who are inspired by the technology and business opportunities and those concerned about climate change.
So as you read this paper, recognise that the scientific and economic evidence of the risks posed by climate change demands nothing less than what is proposed here. It is, by itself, well justified. But also recognise that the approach could quite reasonably be seen as a mobilization to save the economy — and frankly it's the best idea we have to do so.
I commend Ezra and The Climate Mobilization for their courage in taking up this cause and I hope all who read this will join us to help make that cause a reality.


8/15/16 
The New Republic, Bill McKibben: A World at War
It's not that global warming is like a world war. It is a world war. Its first victims, ironically, are those who have done the least to cause the crisis. But it's a world war aimed at us all. And if we lose, we will be as decimated and helpless as the losers in every conflict--except that this time, there will be no winners, and no end to the planetwide occupation that follows.

The question is not, are we in a world war? The question is, will we fight back? And if we do, can we actually defeat an enemy as powerful and inexorable as the laws of physics?
7/27/16
New England Public Radio, Language In Democratic Party Platform Handles Climate Change Like An All-Out War 
If Pearl Harbor was the defining moment for the United States in 1941, it's not clear what that moment could be for climate change. Maybe food shortages, or a war over water.
Margaret Klein Salamon, founder of The Climate Mobilization, a project that makes the case for a World War II-scale mobilization to address global warming, also provided the Sanders campaign with information. Salamon says this style of approach — an idea that's been around for decades — is slowly becoming a movement.
"I think we're going to have to rely on more persuasion, more community education, more social movements to accomplish the kind of collective awakening that Pearl Harbor accomplished," Salamon says.
7/26/16
Common Dreams, Beyond Paris: Finding the Courage to Face the Climate Emergency 
The Democratic platform now contains language that brings shape to the enormity of the climate crisis, and thanks to Sanders' Policy Director Warren Gunnels, climate leader Bill McKibben, filmmaker Josh Fox and many others begins to point towards policy that we must implement if we are to transition away from fossil fuels and begin to draw down carbon sharply on the path to 100% clean, renewable energy and zero net greenhouse gas emissions.
7/22/16
Think Progress, Democratic Platform Calls For WWII-Scale Mobilization To Solve Climate Crisis
We believe the United States must lead in forging a robust global solution to the climate crisis. We are committed to a national mobilization, and to leading a global effort to mobilize nations to address this threat on a scale not seen since World War II. In the first 100 days of the next administration, the President will convene a summit of the world's best engineers, climate scientists, policy experts, activists, and indigenous communities to chart a course to solve the climate crisis.
In These Times, Activists Push the Democrats for Real Solutions on Climate Change
The Democrats' platform [...] "contains some good language [on climate change] … and calls for a World War II-scale mobilization to address it. But the rest of the platform doesn't live up to what is necessary to implement that. … "We need to put forward an affirmative vision of what [a low-carbon world] should look like, [...] not just what we can bargain for."
7/20/16
Huffington Post, Hillary Clinton's Acceptance Speech at the DNC: What Would Roosevelt Do About the Climate Crisis?
For the past two decades, America's leading environmental analysts, including Lester Brown, Joseph Romm and Thomas Friedman, have written of the need for a World War II-scale mobilization in response to the global climate and sustainability crisis. This election season, the advocacy has finally gone mainstream.
7/13/16
EcoWatch, 7 Things the Democratic Party Platform Failed to Do
In the meantime, progress is being made. Democratic Platform Committee members voted in favor of an historic amendment categorizing climate change as a global emergency requiring a World War II-scale mobilization. It's our job to keep fighting for policies that will keep fossil fuels in the ground and end the fracking nightmare. It will be up to each of us to keep demanding that those in power—regardless of political party—take the needed steps to seriously address our impending climate crisis.
7/11/16
Creative Loafing, Demonstrators water bike in Hillsborough River to call attention to climate change effects in Tampa
Organizers of the protest, which consisted of activists on water bikes, want policymakers to view climate change as a crisis decades in the making that's worthy of a historic level of effort to fight it.
"We're asking for a rapid social and economic mobilization similar to the American World War II, so that we can move toward a climate that is safe, supports life and restores the climate to safety," says David Sinclair, organizer for The Climate Mobilization and Sunday's demonstration.
4/28/16
Grist, Two senators want the U.S. to start selling war bonds — to fight climate change
Sens. Barbara Boxer (D-Calif.) and Dick Durbin (D-Ill.) propose issuing up to $200 million worth of infrastructure bonds to raise funds for climate change adaptation efforts like seawall construction, desalination, and drought resilience programs. The bill would leverage public interest to fend off the climate menace, modeled after the U.S. War Bonds program from World War II.

Not all observers are pleased with the bill's focus on adaptation efforts. Margaret Klein Salamon, director of advocacy group The Climate Mobilization, called it "a defeatist strategy — as if war bonds were sold to Americans so they could better adapt to Nazi rule rather than actually attempt to win the war."
4/25/16 
Vice, Paris Accord Protestors: "We Need to Go to an Emergency War Footing Right Now."
Climate Mobilization is a grassroots campaign calling for "World War II-scale mobilization" efforts to restore a safe climate. Like the UN Secretary General, who called the climate crisis a "race against time," the Climate Mobilization movement is also concerned with time—yet unlike Ban Ki-moon, Silk doesn't think we have anywhere near 80-odd years to put effective climate policy into place. We need to go on to an emergency war footing like right now," said Silk. "The climate is already dangerous, we're already in an emergency. It is understood within the climate movement that this is the kind of approach that is needed. It's just considered politically unrealistic. Our goal is to change the political possibility."
4/22/16
The New Republic, Today's signing of the Paris agreement has environmentalists split.
Outside the UN walls, though, other groups are hosting a theatrical die-in.The group that organized the action, the Climate Mobilization, advocates for a "WWII-scale, full employment mobilization to restore a safe and stable climate." In contrast, Greenpeace International executive director Jennifer Morgan said, "Paris created momentum for change." The Sierra Club claimed the day will be "a turning point for humanity." But the Climate Mobilization insists "the agreement may very well lead to the collapse of civilization and the natural world." Food & Water Watch called the treaty "largely symbolic and wholly toothless."
Common Dreams, "Global Elite's Theater": Paris Deal Is Mere Starting Point for Climate Justice
CRIENGLISH.com, China Signs Paris Agreement on Climate Change
United Press International, Kerry, 174 leaders sign 'powerful' Paris climate change treaty amid skepticism, protests 
While some say the Paris accord doesn't go far enough, there are others who say it goes too far in causing potentially catastrophic harm to the planet. The agreement, they argue, could lead to unforeseen and potentially disastrous consequences...The Climate Mobilization, an emergency climate change group, is planning "die in" protests at the pact's signing at the U.N. building and has posted a pledge onlinethat calls on supporters to demand action from the U.S. government. 
4/21/16
EcoWatch, Not Everybody is Celebrating the Signing of the Paris Agreement
"The Paris agreement is historic in the sense that the Munich Agreement was historic—a catastrophic act of appeasement meant to maintain business-as-usual arrangements," said Climate Mobilization Deputy Director Ezra Silk. "Leading economists argue that climate change could cause at least as much destruction as World War II—and the non-binding Paris agreement paves the way for that future. It's time to stop waiting for another climate 'Pearl Harbor' and to mobilize all available resources to save human civilization."
4/20/16
Thom Hartman, The Green Report, Ezra Silk Interviewed.
4/17/16
Cascadia Planet, Out of Time on Planet Earth, by Patrick Mazza
The new World War II message is quickly coming in from the climate movement's leading edges to the mainstream.  One group leading the call for a climate emergency response is Climate Mobilization.  The group aims to zero out U.S. climate-heating pollution by 2025. Its Pledge to Mobilize asks that we, "Immediately commence a social and economic mobilization to restore a climate that is safe, stable, and supportive of human civilization. This heroic campaign shall be carried out on the scale of the American World War II home front mobilization, and will require hard work and shared sacrifice from all Americans."

 
The Guardian, Bernie Sanders may win big this week. Our panelists share why he has their vote
Daphne Wysham: 'He won't be bought by the fossil fuel lobby'

Bernie Sanders recognizes climate change as the "single greatest threat to our planet". That is why the "climate emergency caucus" in Iowa overwhelmingly voted to support Bernie Sanders, by 67%. His independence from corporate interests allows him to tackle other pressing issue of our time, like income inequality and taking on the 1% who profited from the bank bailouts. His courage, integrity and clarity of vision on critical issues like these make him a compelling candidate. [...]

The Pentagon has called climate change a "threat multiplier" for terrorism and everyone from the president to the Pope to the scientific community has called it a global emergency.
2/1/16
Democracy Now, Iowa Progressives Weigh Clinton vs Sanders as One of Whitest U.S. States Kicks Off Presidential Race
Huffington Post, Bernie Sanders Wins On Climate Change In Mock Iowa Caucus Of Activists
New Republic, Bernie Sanders might want to thank climate change voters if he wins tonight
PR Watch, Sanders Mission in Iowa: "Shock the Political Establishment"
1/30/16
EnviroNews, Bernie Sanders Blows Away The Field in Iowa 'Climate Emergency Caucus'
At a model caucus event, aptly named "Climate Emergency Caucus," held Friday... Bernie Sanders not only won — he flat out smoked the competition — leaving both Hillary Clinton and Martin O'Malley in the dust. [...]

Salamon said The Climate Mobilization has succeeded in getting several state politicians and candidates to sign the pledge, but that they are yet to have a presidential candidate make the commitment. However, climate analyst John Davis, who was also advocating for Bernie Sanders at the gathering, said he would be "making a very strenuous recommendation that Bernie Sanders becomes the first Democratic candidate to take the pledge."
Des Moines Register, Sanders a favorite at climate change rally
11/6/2015 

Democracy Now,  Report: Broad Global Support for Greenhouse Gas Limits
This comes as a group of Iowa state legislators have called on visiting presidential candidates to sign onto a pledge calling for a World War II-style mobilization to transition the United States to a clean economy. The pledge urges the United States to end all fossil fuel use by 2025 and for the government to employ tens of millions of Americans in expanding clean energy and agricultural infrastructure. 
11/5/2015 
Des Moines Register, Iowa Activists Demand War on Climate Change
Demanding that Iowa caucus presidential candidates declare war on climate change, about 30 political activists waved banners and rallied outside the Neal Smith Federal Building in downtown Des Moines on Thursday.
Vice: Motherboard, Iowa Democrats Call for a WWII Scale Climate Mobilization to Fight Climate Change

It's likely the most ambitious pledge to fight climate change put forward this election cycle.
ABC News: Des Moines, "Politicians Demand War on Climate Change"
10/22/15

The Big Picture with Thom Hartmann, Interview with Margaret Klein Salamon 
9/26/15

Ecowatch, The Emergency Climate Movement, by Margaret Klein Salamon
In recent months, a new, increasingly powerful segment of the climate movement has been taking shape. A coalition of those who openly recognize the existential threat of the climate crisis and advocate for a solution that is scientifically realistic and morally tenable: emergency mobilization.
9/24/15

Huffington Post, The Pope and Obama's Climate Legacy, by Tom Weis
It is too late for cloud shots and timid half measures. We need a green energy moon shot and a bold national mobilization on the scale of World War II. Morality is crying out for us to heed what Pope Francis calls "the cry of the earth and the cry of the poor" by becoming the next Greatest Generation.

9/22/15

Quad City Times, Group rallies to sign climate change mobilization pledge
Disasters such as wildfires are going on all over the country, [Steve Drucker] said. "How bad does it have to get before we have a Pearl Harbor moment?" she asked. Because the disasters are not local, "the rest of us are acting like it's not our problem. We don't realize there's a tsunami of disasters coming."It's time to mobilize now for WW CO2," she said.

9/2/15

EnviroNews, 'Moment Of Truth For Your Climate Legacy' — Enviro Leaders Write Lambasting Letter to Obama
"The Obama administration calls climate change a global threat on the scale of World War II, so why are they not responding with a World War II-scale emergency mobilization?" stated Margaret Klein Salamon, founder of The Climate Mobilization, and a spokeswoman for the signers-coalition. Tom Weiss, of Climate Crisis Solutions, was one of the initiators of the letter, and told EnviroNews in front of the White House in 2014 that America needs to lead with a "green energy moonshot" for the world to circumvent global disaster.

6/30/15

Ecowatch, America's Zero Emissions Imperative, by Rev. Lennox Yearwood, Jr. and Tom Weis
(also on Huffington Post)
The urgency of our planetary emergency requires that we transition from fossil fuels to renewables not in decades, but in years. We must move beyond what conventional wisdom views as politically feasible to what this existential crisis truly demands: an all hands on deck societal mobilization at wartime speed.To be clear, we are not suggesting ending the use of fossil fuels tomorrow. Decarbonizing our industries, homes, transportation, power generation and food production will take time, probably longer than 2020. Let's hope it doesn't take us until 2030. But we must make this transition as quickly as humanly possible.In 2011, an unprecedented coalition of planetary protection leaders called on the presidents of the U.S. and China to declare a global climate emergency by launching a wartime-like mobilization to cut carbon emissions 80 percent by 2020. Because that urgent call was not heeded, we have lost precious time in the race to save civilization, and must now set our sights even higher.To this end, we join with our allies at The Climate Mobilization in calling on Congress and the White House to revitalize our economy and put America back to work by declaring a U.S. goal of net zero greenhouse gas emissions by 2025.

6/12/15 
Peace and Social Justice Show, Kat Baumgartner interviewed by Chris Nelson, KZFR 91.5 People Powered Radio, Chico, CA
6/10/15

The Reverend Billy Show, Margaret Klein Salamon interviewed on the Reverend Billy Show on WBAI radio NYC. 
6/8/15

Progressive News Network, Ezra Silk interviewed (at about 100 minute mark).
6/3/15

Radio Ecoshock, Mobilize to Save the Climate! Alex Smith interviews Margaret Klein Salamon for 45 minutes.
3/25/15   

Taking America Back live interview, TCM Director Margaret Klein interviewed by Rick Staggenborg, Mobilizing Against Climate Change 
3/18/15

Examiner, Climate change: More media, public groups and organizations demand action

12/19/14

Common Dreams, What Climate Change Asks of Us, by Margaret Klein Salamon
We must create an atmosphere in which active engagement in the climate crisis is considered a fundamental part of living a moral life. To accomplish this, we have to give people opportunities to be a meaningful part of the solution; we have to give them the opportunity to be rescuers.

10/30/14

Truthout, 10 Epic Reasons Why Americans Should Give a Sh*t About Voting
While everyone will have to make profound personal lifestyle changes to help balance our ecological books, many of the big transitions to sustainable energy and development must happen at the state and federal levels. And it will take an enormous amount of political activism, cooperation and vision to move the agenda. [...]So, after taking the Climate Mobilization Pledge, as we solar-panel our roofs, relearn the wonders of riding a bike, cut carbon-intensive meat from our diet and consider establishing an eco-village with our friends, we can also get involved in supporting the candidates who are committed to taking meaningful action. Tremendous government investment and war-time mobilization is needed to make the transition away from the climate cliff.
10/7/14

YES! Magazine, These eight projects are sustaining the momentum of the People's Climate March
[The Climate Mobilization's] backbone is a simple pledge to embrace climate science, react responsibly and advocate equally among other citizens and the government elite. [...] Sure, the Climate Mobilization Project is insanely ambitious, but isn't that just what the climate emergency demands?
10/3/14

Truthout, The People's Climate March is Over: What Now?
The interwebs aren't perfect; campaigns of the clicktivism era have lost some clout and arguably, depth. They often fail to engage activists to their full capacity. That's why things like the People's Climate March are so important and refreshing. The Climate Mobilization Project is exciting because it takes that principal to the extreme.
Al Jazeera America interview, live with Tony Harris. 
[Interview transcript]
We as a society have faced terrible threats before. The Axis powers threatened everything that America stood for, and threatened our safety, and we rose to the challenge. —Margaret Klein
9/21/2014

USA TODAY, 'Largest-ever' climate-change march rolls through NYC
Ezra Silk, 25, of Portland, Maine, said the USA has to take action on climate change if it wants to protect the nation's democracy. He pointed to Syria as an example of how climate change can contribute to a country's collapse."There was the worst drought in its modern history," said Silk, co-founder of The Climate Mobilization, which advocates a World War II-scale intervention on climate change. "It caused a major upheaval when all the farmers came into the cities. There was a tyrant, who then oppressed his people, a civil war broke out, destabilizing the entire region, and a group like ISIS has come to the forefront. I mean that's the embodiment of what America is not about, and that's what collapse of civilization would look like."
9/19/2014

Guernica, Margaret Klein: We Need To Talk.
The founder of The Climate Mobilization talks with Bridget Read about how psychology—not science—may be the key to ending America's climate denial.
9/11/2014

Resilience, Demands for the People's Climate March and Beyond: Introducing the Pledge to Mobilize*, by Margaret Klein Salamon
The lack of demands at the People's Climate March is a golden opportunity. We, the marchers, will determine the demands.
*Also published in Fairfax Climate Watch and Boomer Warrior