UN Secretary General Calls on All Nations to Declare a Climate Emergency
"Can anybody still deny that we are facing a dramatic emergency? That is why today, I call on all leaders worldwide to declare a State of Climate Emergency in their countries until carbon neutrality is reached."
—Antonio Guterres, Secretary General of the United Nations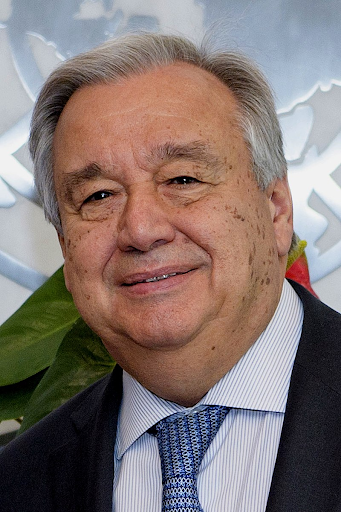 In a powerful speech at the Climate Ambition Summit 2020 this week, United Nations Secretary General Antonio Guterres called on all national governments to declare a climate emergency and stay on an emergency footing until carbon neutrality is reached. This is the strongest statement yet by the international body that has adopted the Climate Emergency Campaign goal of getting governments on the record by declaring an emergency and then implementing policies that rise to the challenge. It's remarkable how far this movement has come; the video from the U.N. is worth watching.
This is a global shift, as leaders across the world, in governments large and small, come to the understanding that we face "a moment of truth" and a decisionpoint: it's a choice between Climate Mobilization and collapse.
If you are as inspired as we are by this moment, consider joining a Climate Emergency Campaign where you live — or starting one!
On the homefront, a huge shout-out to TCM Montgomery County, Maryland, which achieved one of the first declarations in the U.S. and where the county just released a draft Climate Action Plan that sets out their pathway to zero emissions by 2035!
With the addition of two new national declarations in New Zealand and Japan, over 950 million people (12.8% of the global population) now live in a jurisdiction that has declared climate emergency. Click here for a detailed look at declaration numbers.
The climate emergency declarations coming out of New Zealand and Japan both include inadequate targets for eliminating emissions with goals of "net zero by 2050." Greenhouse gas emissions must be reduced to zero by 2030 or sooner to avoid catastrophic global heating, the impacts of which we are only beginning to comprehend.
Double Your Impact to Support Our Work!
Thousands of people have taken action as part of the Climate Emergency Campaign — if you're reading this, you're probably one of them. We have a strategy for advancing this work and winning deep policy impacts in 2021, but to get there we need your support.
Our board of directors has pledged to match gifts dollar-for-dollar — can you jump in now and help us make sure we start the year off strong? Make a contribution now to support Climate Mobilization.
Hopeful News
Major changes to energy infrastructure are fast approaching as coal, natural gas, and oil power plants reach the end of their useful lives. A full 85% of the current fossil-fuel power generation capacity in the U.S. is slated to close due to age by 2035. The journal Science published a paper looking at the impact of plant closures on workers, drawing parallels with the job losses and devastation around the steel industry in the U.S. in the 1970s and 80s. The study author points to the opportunity lawmakers have at this time to both protect workers from the impact of plant closures by planning ahead, and shift energy production to green sources.
In Montgomery County, Maryland, where the county government declared a climate emergency in 2017, County Executive Marc Elrich has proposed a new Climate Action Plan to lower greenhouse gas emissions 80% by 2027 and 100% by 2035. "The Draft Climate Action Plan identifies the County's major GHG emissions sectors, including energy supply, buildings and transportation, and proposes actions to directly reduce GHG emissions in these sectors. The plan also includes actions related to climate adaptation, carbon sequestration, climate governance and public engagement, partnerships and education."
President Elect Joe Biden has called the climate crisis one of the greatest challenges facing our country, but has stopped short of declaring it a national emergency. With control of the Senate still up for grabs and concerns that declaring a climate emergency would alienate moderate senators, the Biden-Harris team continue to ride the line on this issue, committing to re-joining the Paris climate accord, but refusing to answer calls to invoke the National Emergencies Act. Those in support of Biden's decision argue that we cannot afford to divide the country by declaring a climate emergency. We, on the other hand, continue to organize around our conviction that telling the truth is critical and that nationwide Climate Mobilization is necessary if we are to have any hope of addressing the climate emergency by 2030.
A combination of cross-generational organizing, smart legislation, and eight-years of fighting has led to New York divesting its $226 billion pension fund from fossil fuels, with a promise to completely decarbonize the fund by 2040. The fossil free divestment movement continues to gain ground, with over 1300 institutions representing nearly $14.5 trillion agreeing to full or partial divestment. But this win is expected to raise the stakes for everyone, warning Wall Street and other institutional investors that the fossil fuel industry's days are numbered.
As we have experienced first-hand working with organizers from across the country in their local communities, Post Carbon Institute's Resilience project points out the success of local governments taking a lead on reducing emissions and creating just, sustainable futures using climate emergency declarations to focus goals and bring people together. "This process of declaration is helping communities to better understand where they are on their climate journeys and creates a framework for designing, delivering and evaluating a pathway forward towards a net-zero emissions future."
Climate Impacts
Record high temperatures in the arctic are rapidly changing the landscape and ecosystems above the arctic circle. Permafrost is melting, glaciers collapsing, snow-cover and sea ice are shrinking. This region is warming up to 4 times faster than the rest of the planet, influencing sea level rise and extreme weather around the world.
Calculations are just being finalized for the cost to the economy of the 2018 California wildfires. Previous to this year, 2018 had been the worst wildfire season on record, costing the US economy an astounding $148.5 billion dollars in losses, including concrete loss of life and property, as well as health impacts of wildfire smoke, loss of productivity and other costs.
Inhabitants of low lying, rural areas in Bangladesh are being forced out of their homes, often into city slums, by severe weather and constant flooding. People who formerly worked in fishing or farming in these regions are left without a livelihood.
Long Reads
The climate emergency is inextricable from the theft of land from indigenous people, as is the ongoing abuse of indigenous people and the lands they inhabit. This article explores the #landback movement The Indigenous landback movement is central to the fight for environmental justice. Explore the landback movement and their recent wins in this article.
As Biden's presidency draws near, the desire for a return to robust and assertive government action on climate is growing. A recent article in Yes! calls to revive the Civilian Conservation Corps, a program created and launched during the Great Depression that put millions of people to work while also deepening America's conservation efforts. A revised form of the program would ideally reject its predecessor's pitfalls (racism, sexism, ecologically destructive projects, etc.) and address our current environmental challenges with the guidance of scientific experts and the efforts of a truly diverse workforce.