Helping lead the fight to mobilize governments and society to restore a safe climate.
Over the past six years since our founding, The Climate Mobilization has achieved a paradigm shift in climate politics. Moving society away from thinking about "climate change" to instead responding to the "climate emergency" — which requires immediate attention to survive — has resulted in more than 1 in 10 people on the planet living in a city, state or other jurisdiction that has declared a climate emergency. More than 11,000 scientists have warned the world about the climate emergency, Oxford Dictionaries named Climate Emergency the word of the year in 2019, and The Guardian and other media outlets have updated their style guides to match the urgency of the crisis. 
The Climate Mobilization has achieved these crucial impacts through proliferating our distributed organizing model across the U.S. and catalyzing the Climate Emergency Movement.
U.S. Governments have declared a Climate Emergency
Local Climate Emergency Action
In the last 5 years, more than 190 cities, counties, and other jurisdictions in the United States have passed a formal declaration of Climate Emergency — a critical first step in acknowledging the emergency situation that climate disruption poses to communities and ecosystems across the planet. Climate Emergency organizing has helped advance ambitious local climate action across the U.S. beyond the goals of the Paris Agreement — 30 localities that have declared a Climate Emergency have also committed to reaching zero emissions by 2030.
The Climate Mobilization chapter in Hoboken, New Jersey was first to declare a climate emergency in 2017, and has been critical to the campaigns that have stopped two fracked gas power plants from being built in Northern New Jersey. In Kearney, NJ Transit is now exploring a 100% renewables microgrid after 15 municipalities and 13 state legislators followed the Hoboken City Council's opposition to the fossil fuel project. 
After declaring a climate emergency in 2018, Berkeley, California banned gas infrastructure in new buildings in 2019, citing their declaration. This was foundational to the building electrification movement that has moved into several other states. The Sierra Club shows 38 additional municipalities that are phasing out natural gas in buildings in California. Now, a coalition of nearly 70 companies, either headquartered or with operations in California, is urging the governor and the energy commission to enact all-electric codes for residential and commercial buildings in California starting in 2022. 
New York City passed their "Climate Mobilization Act," in April 2019, the United States' most ambitious local climate action initiative to date, according to a new policy scorecard by the American Council for an Energy Efficient Economy (ACEEE). The Act imposes significant financial penalties of any buildings that fail to rapidly cut greenhouse gas emissions via energy efficiency upgrades, targeting the city's largest driver of emissions. The ACEEE scorecard ranked climate action from 100 U.S. cities; 11 of the top twenty cities on the scorecard have adopted our framework and declared a climate emergency.
The impact of The Climate Mobilization on the national stage is remarkable for an organization of its size and age. Our campaign for a national climate emergency declaration, which was sponsored by Representatives Alexandria Ocasio-Cortez and Earl Blumenauer and Senator Bernie Sanders in July 2019 achieved an additional 110 co-sponsors, including six presidential candidates, Kamala Harris among them.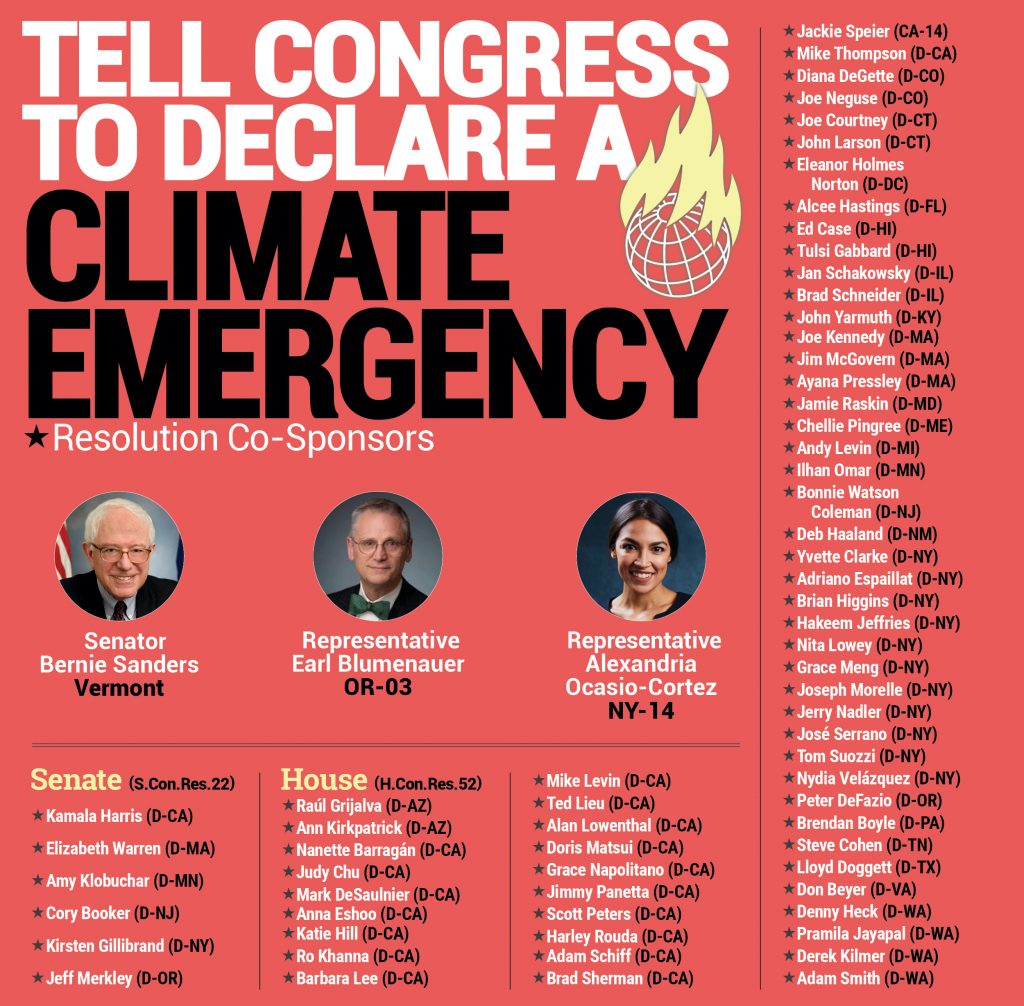 Join the fight to protect humanity and restore a safe climate.