Mobilizing communities to restore a safe climate​
After making great strides helping communities declare climate emergency, we began building power to demand equitable climate justice policies that lower carbon emissions and pollution.
Successful power building to demand equitable climate justice policies that lower carbon emissions and pollution
Check out our local work in Acton, MA and Sonoma County, CA.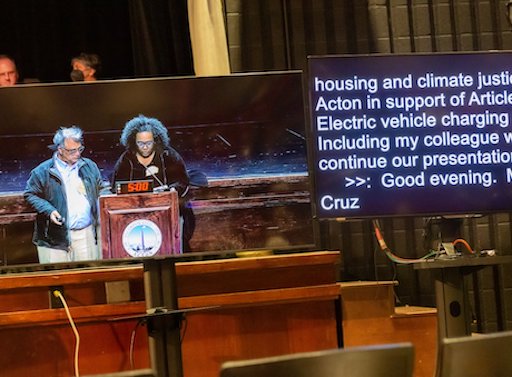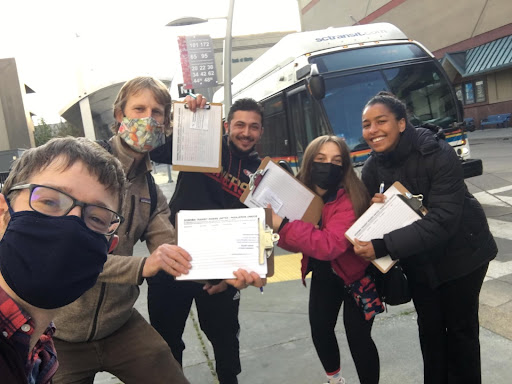 Brought 52 Acton residents to Town Meeting where we passed an EV Charging for All resolution, an opening salvo for electrified transportation in the community.

Filed recycling complaints that led to new proposed regulations that will guarantee recycling access for apartment and condo buildings.

Developed a climate action policy platform and won the addition of 7 proposals to Acton's Climate Action Plan.

Got the Town of Acton to set aside $30,000 for a pilot housing stabilization program.

Incubated a strong climate and housing justice group that is ready to become an independent force for justice in Acton going forward.
Launched a new transit rider union and grew its rider list to over 250 riders, then passed $1.4 million of funding for two proposals–one for fare free buses for all youth countywide, and another to add new express buses on the four main intercity bus routes.

Mobilized 20+ organizations, including the local NAACP, North Bay Jobs with Justice, and 350 Sonoma, to take action for transportation justice.

Convened 7+ community groups into an Equitable Transportation Alliance.


Supported an existing BIPOC-led grassroots group (Roseland CBI & Equidad) to add "Safe & Slow Streets" to their focus areas, and provided coaching and networking to help the group gain policy and organizing skills.
Declarations of Climate Emergency
U.S. Governments have declared a Climate Emergency
Local Climate Emergency Action
In the last 5 years, more than 190 cities, counties, and other jurisdictions in the United States have passed a formal declaration of Climate Emergency — a critical first step in acknowledging the emergency situation that climate disruption poses to communities and ecosystems across the planet. Climate Emergency organizing has helped advance ambitious local climate action across the U.S. beyond the goals of the Paris Agreement — 30 localities that have declared a Climate Emergency have also committed to reaching zero emissions by 2030.
The impact of The Climate Mobilization on the national stage is remarkable for an organization of its size and age. Our campaign for a national climate emergency declaration, which was sponsored by Representatives Alexandria Ocasio-Cortez and Earl Blumenauer and Senator Bernie Sanders in July 2019 achieved an additional 110 co-sponsors, including six presidential candidates, Kamala Harris among them.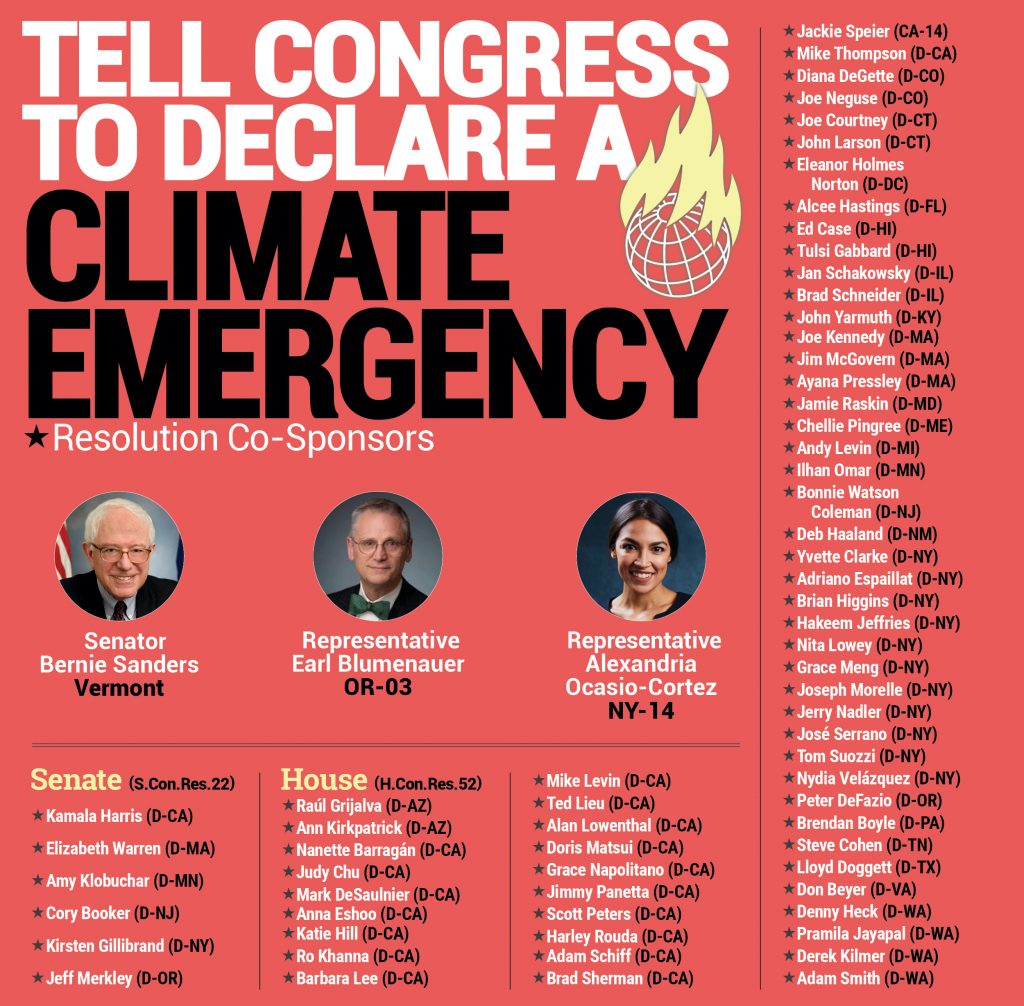 The Climate Mobilization chapter in Hoboken, New Jersey was first to declare a climate emergency in 2017, and has been critical to the campaigns that have stopped two fracked gas power plants from being built in Northern New Jersey. In Kearney, NJ Transit is now exploring a 100% renewables microgrid after 15 municipalities and 13 state legislators followed the Hoboken City Council's opposition to the fossil fuel project. 
After declaring a climate emergency in 2018, Berkeley, California banned gas infrastructure in new buildings in 2019, citing their declaration. This was foundational to the building electrification movement that has moved into several other states. The Sierra Club shows 38 additional municipalities that are phasing out natural gas in buildings in California. Now, a coalition of nearly 70 companies, either headquartered or with operations in California, is urging the governor and the energy commission to enact all-electric codes for residential and commercial buildings in California starting in 2022. 
New York City passed their "Climate Mobilization Act," in April 2019, the United States' most ambitious local climate action initiative to date, according to a new policy scorecard by the American Council for an Energy Efficient Economy (ACEEE). The Act imposes significant financial penalties of any buildings that fail to rapidly cut greenhouse gas emissions via energy efficiency upgrades, targeting the city's largest driver of emissions. The ACEEE scorecard ranked climate action from 100 U.S. cities; 11 of the top twenty cities on the scorecard have adopted our framework and declared a climate emergency.
Join the movement for people-powered action