We urgently need a massive effort to stop the burning of fossil fuels to keep the climate from total collapse. Our program helps organizers grow
movement participation and disruptive power. Scroll down to see our tools for organizers!
Get our Climate Emergency Toolkit and Take Action
We offer a step by step blueprint for people and organizations to get their communities involved by passing Climate Emergency Declarations, and follow-up policies, Climate Emergency Programs. Whether you're an individual, or part of a local climate group in your community, we make it easy to move your community into emergency mode on climate.
               *The Climate Mobilization 2030 toolkit is brought to you by Climate Mobilization Project
We'll send you an organizer toolkit and opportunities to get connected with a network of climate emergency organizers.
We are planning Climate Survival Movement Incubation Gatherings for 2023 and beyond. If you are part of a local group interested in mutual aid, direction action and healing — a joining a collective movement for climate survival, join us!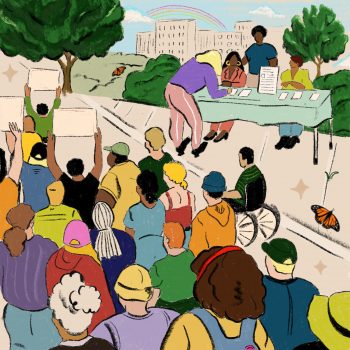 What is a Climate Emergency response?
A Declaration of Climate Emergency is a piece of legislation passed by a governing body such as a city council, a county board of supervisors, a state legislature, or even a national government. It puts the government on record in support of taking emergency action to reverse global warming. Resolutions vary around the world, with many governments including local climate impacts and new climate targets in their resolution.
A Climate Emergency program is a comprehensive package of follow-up steps — sometimes adopted through a climate action plan — that puts a city or county on track to reach zero emissions by 2030. Example policy measures are in the toolkit you can download above.

For climate groups, starting a Climate Emergency campaign can serve as a powerful rallying call to attract hundreds of new members and build power to demand change. 
Use our Climate Emergency Declaration template and resources on other Climate Emergency policies to support the campaign for a Climate Emergency Declaration and follow-up policies in your municipality. While we encourage the template be edited to meet local conditions and specific local government situations, we ask that you retain the core demands when advocating for a Climate Emergency .
Climate Emergency Declaration Resolution Template
The goal of the climate emergency movement must be to collectively and immediately lead the public out of 'normal mode' and into 'emergency mode.'