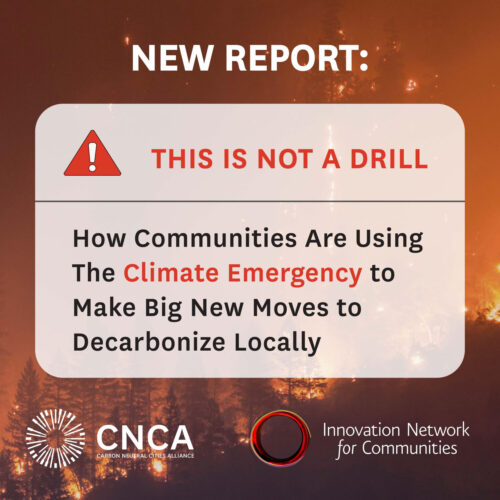 Accelerating carbon-reduction targets, updating pledges to reach zero emissions by 2050 to 2040, 2035, or earlier;
Expanding solutions for reducing local emissions, such as working to eliminate the use of fossil fuels from buildings, transportation, and other sectors;
Tackling emissions produced outside local boundaries, developing strategies to reduce "embodied" carbon emissions of goods and services produced outside of their boundaries;
Drawing down carbon through natural means, including through composting and reforestation programs; and
Upgrading local government's decarbonization capacities, initiating new decision-making, monitoring, and accountability processes to ensure climate change is a priority across all government activities.
The study also identifies additional trends in how communities have implemented their emergency declarations and plans, including the use of new regulatory tools, the pursuit of new legal powers to enable more decarbonization, embracing the values of climate equity and Just Transition, and expanding community participation in decision-making.
Nearly 2,000 governments across the world have declared a climate emergency, representing close to 1 billion people worldwide. This report is a timely and vital resource for activists and elected officials looking for practical knowledge and inspiration as they work to implement their climate emergency declarations and accelerate climate action. Read the new report here. 

Ready to start a Climate Emergency campaign in your community? Click here to learn more about our Climate Emergency campaign and sign up to receive organizing resources.