Climate Mobilization Project, sister organization to The Climate Mobilization, recently welcomed two new board members, Michél Legendre and Madeleine MacGillivray. We're grateful for their commitment and dedication and the energy they bring to this organization and the wider movement for climate justice. Welcome, and thank you to them both!
Michél Legendre (he/him) is an immigrant from Trinidad and Tobago of Afro and Indo-Caribbean ancestry. Currently he is a non-profit consultant and board member for Power Shift Network. Michél has supported movements for local food, climate and housing justice in Boston and previously served as Campaign Director for Corporate Accountability and Worth Rises. Michél currently lives in Bushwick (unceded lands of the Lenape people), New York.
Michél believes that massive mobilizations that help people find a home in our shared struggle for climate justice are the catalysts for the more profound work locally in our communities. Rather than holding the burden of the climate apocalypse as individuals, it's important to focus on our collective power, our shared anger, dreams, and hopes, and turn them into action. When asked why now is the time to get involved with the climate justice movement, Michél commented "It is precisely because of all the injustice we see in the world that climate change as our centralizing and grounding movement is so important." Michél notes that many other justice issues are made worse by climate change AND our other justice issues are important to achieving the momentum and political will to achieve the climate justice impacts we need.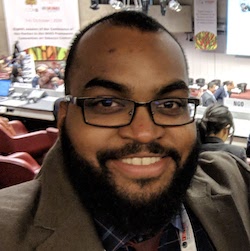 Madeleine MacGillivray is a lifelong climate activist, microplastics specialist, sustainable brand consultant, model, and Brooklyn native. She holds an MS in Sustainability Management from Columbia University's School of Professional Studies, and a BA in Environmental Policy from Barnard. Madeleine has been speaking out against water issues since the age of nine, when she founded her first non-profit organization. At 16, Madeleine wasone of six youth plaintiffs who were part of the hugely influential Our Children's Trust lawsuit, which sued the US government and the EPA and reached the Supreme Court.
Madeleine is thrilled to join an organization that is actualizing the work that her 17 years of activism have shown her is most needed: empowering and amplifying specific communities and organizers, while cultivating a broader movement centered around justice, equity, and urgency. Reflecting on getting involved in climate justice, Madeleine comments "We are entering a moment in human history where folks around the globe are mobilizing more than ever as we reach a collective tipping point, and individuals who may not have previously been able to access information and skill sets due to institutional barriers are now more empowered and able than ever to fight for justice for themselves and their communities. We need everyone!"