Climate chaos is here. Join us August 19 to find courage and community.
Don't miss this special event.
What you learned about climate change this week is just the beginning. Now it's time to get connected and learn about the path forward. Build community, take action and learn from speakers like youth climate leader Alexandria Villaseñor, activist Mike Africa, Jr., Water Protector JD, and climate thinker Daniel Aldana Cohen.
On the Line will take place on Thursday August 19 at 5pm Pacific Time / 8pm Eastern Time. Sign up by filling out the form below.
Daniel Aldana Cohen works on the politics of climate change, investigating the intersections of climate change, housing, political economy, social movements, and inequalities of race and social class. He directs the Socio-Spatial Climate Collaborative at the University of California, Berkeley, and is the co-author of A Planet to Win: Why We Need a Green New Deal.
Alexandria Villaseñor is  the co-founder and youth staff coordinator of Earth Uprising. Inspired by Greta Thunberg, Alexandria began her own  weekly school strike for climate in front of UN headquarters in December 2018. She has since spoken at the World Economic Forum and the Democratic National Convention and has won numerous awards, including the 2019 Rachel Carson Award for Environmental Service.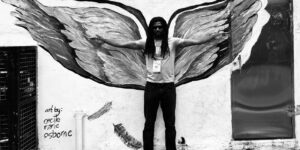 Mike Africa, Jr. is an activist, a writer and the host of the podcast "Ona Move w/Mike Africa, Jr.," The star of the HBOmax documentary "40 Years A Prisoner," he is a stage performer, keynote speaker & hip hop artist. 
Mike was born in a Philadelphia jail following a police raid on his parents home that lead to their arrest and sentence to 100 years in prison. At age 6, he witnessed the smoke in the air from a police bomb that was dropped on his family's home killing his uncle, his cousin and nine other family members. At age 13 he began working to free his parents from prison. After over 25 years of struggle, Mike got his parents out of prison, at age 40. 
JD, a White Earth Anishinaabe Water Protector who organizes with Giniw Collective, will be joining the #OnTheLine call to share updates and calls to action from the struggle against Line 3.